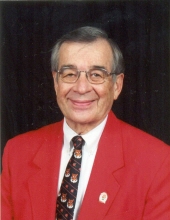 Obituary for Paul Stanley Eicholtz
Paul Stanley Eicholtz, 81, died Tuesday April 19, 2016 at the York Hospital. Paul was born in Gettysburg, PA, and was the son of Robert and Alma (Hull) Eicholtz.


He is survived by his wife of 58 years, Ann Fortenbaugh Eicholtz. In addition to his wife, Paul is survived by a son, Robert F Eicholtz, and his wife, Cynthia; daughter, Susan (Eicholtz) Pyron, and her husband, William; and six grandchildren: Amy, Chris, Cole, and Blake Eicholtz and Paul Wesley and Samuel Pyron. They were his pride and joy.


He was predeceased by his brother, Robert C., and his nephew, Samuel Eicholtz. He is also survived by many nieces and nephews.


Paul graduated from Gettysburg High School in 1953 and from Penn State University in 1955 with an Associate's Degree in Electrical Engineering.


Immediately following graduation, he was employed by the Hearst Corporation, WBAL Division, in Baltimore, MD. He remained with WBAL until his retirement in 2000, excluding 1958-1960 when he was in the Signal Corps of the US Army.


For the last thirteen years of his career, Paul traveled with the Baltimore Orioles as the broadcast engineer and producer of all home and away games. He was proud of his career and enjoyed the many opportunities it afforded him to meet politicians, world leaders, and professional athletes.


In retirement, he and his wife returned to the Gettysburg area. Paul was a member of Christ Evangelical Lutheran Church in Gettysburg. He was a 60-year member of Good Samaritan Lodge 0336, Zembo Shriners, and ROJ Harrisburg Court Number 116. He was an Emeritus Aide to the Potentate, having served for 10 years. He was also an active member and past president of the Adams County Shrine Club.


Arrangements are being handled by Monahan Funeral Home. A visitation will be held on Friday, April 22, from 6:00 – 8:00 p.m. at the Monahan Funeral Home, 125 Carlisle Street, Gettysburg, PA, and a Memorial Service will be held on Saturday, April 23, at 11:00 a.m. at Christ Evangelical Lutheran Church, 44 Chambersburg Street in Gettysburg.


In lieu of flowers, the family asks that memorial contributions be made to the Shriners Hospital for Children and sent to Zembo Shrine at 2801 North Third Street, Harrisburg, PA 17110 or to Christ Evangelical Lutheran Church.
Read More
Previous Events
Visitation
Monahan Funeral Home
125 Carlisle Street
Gettysburg, PA 17325
Family will receive friends
Service
Christ Lutheran Church
30 Chambersburg Street
Gettysburg, PA 17325
Memorial Service
Memorial Contribution
Shriners Hospital for Children
Zembo Shrine
2801 North 3rd Street
Harrisburg, PA 17110
Christ Lutheran Church
30 Cham bersburg Street
Gettysburg, PA 17325