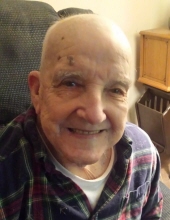 Obituary for Ralph W. Singley
Ralph W. Singley, 92, of Gettysburg, PA died Saturday, October 31, 2020 at Paramount Senior Living, Fayetteville, PA.
Born November 9, 1927 in Mummasburg he was the son of the late Norman L. and Clara E. (Allison) Singley. He was the husband of Ruth I. (Starry) Singley who died in 2000.
Mr. Singley was a Veteran of the United States Army. He was a well-known painter in Adams County and painted a number of houses in the area.
Ralph is survived by his three children, Jeffrey L. Singley and his wife Carolyn, Susan Faye Rose and her husband Jim, Donna Thorpe and her husband Bill, all of the Gettysburg area, five grandchildren, Jamee Stiffler, Cory Singley, Michael Rose, Jason Rose, Zachary Thompson, and two great grandchildren, Leah Stiffler and London Rose. He was preceded in death by his brother, Barry L. SIngley.
Funeral services, being handled by the Monahan Funeral Home will be private and at the convenience of the family. Online condolences may be made at monahanfuneralhome.com.
Read More