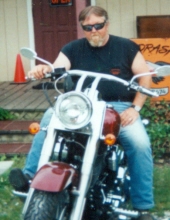 Obituary for Robert L. Walters
Robert L. Walters, 66, of New Oxford, PA died suddenly Sunday morning at the Gettysburg Hospital.
Born June 19, 1950 in Baltimore, MD he was the son of the late Fred and Audrey Walters. He was the husband of Sharon A. (Waters) Walters of New Oxford to whom he was married to for 32 years.
Robert was a Veteran of the United States Army. He recently retired from Acer Paving where he was an equipment operator. He was an avid motorcyclist and loved his Harley, as well as his dog Dingo.
In addition to his wife, he is survived by his four children, Betsy Seitz and her husband Melvin, of Freeland, MD, Tracey Cooper, of Hampstead, MD, Robert Walters, of Kennett, MO, Marci Cross, of Gettysburg, PA, four grandsons, Matthew Cooper, of Laurel, MD, Michael Cooper, Andrew Cooper, Joshua Dudlext, all of Hampstead, MD and a great grandson, Garrett Walters, of Laurel, MD.
Funeral arrangements being handled by the Monahan Funeral Home, are incomplete currently, details will be published at a later time. Online condolences may be made at monahanfuneralhome.com.
Read More