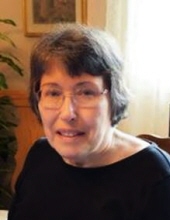 Obituary for Roberta "Cookie" Sentz
ROBERTA ("COOKIE") SWISHER HENNINGER SENTZ

Roberta Carol "Cookie" Sentz of Hanover, 75, passed away on June 11, 2022 at home after a long illness. She was born in Gettysburg on January 31, 1947, the only child of the late Robert B. and Leila V. (Carver) Swisher. She was predeceased by Thomas P. ("Tom") Henninger, who passed in 2011.

Cookie is survived by her devoted and loving fiancé, Wayne D. Sentz, who so diligently cared for Cookie during her illness. Cookie thought of Wayne as her soulmate, and loved him beyond measure. She is also survived by Wayne's son, Wayne D. Sentz II, and his wife Sherry T. Sentz, and their five children: Jennifer Dennis (husband Sam), Brittany Brown (daughter Natalie), Meghan Tavares (husband Connor), Anthyn Brown and Abbigayle Sentz.

A 1964 graduate of Gettysburg Area Senior High School, Cookie actively served on their reunion committee since 1989. After high school, Cookie worked for the Columbia Gas Company for thirty years with what she described as "the nicest people in the world," and later worked in various positions at the Adams County Court House, H&H Pontiac and the Quality Inn Gettysburg Battlefield.

Cookie was an active member of the Gettysburg American Legion Auxiliary, and a life member of the VFW Auxiliary. She also volunteered and worked with many charitable organizations throughout her life, including Hospice.

On behalf of Cookie, her family would like to thank all of the amazing caregivers who took care of Cookie during her illness, especially Dr. Adam Wasserman and Certified Nurse Practitioner Tracey Long and their staff at the Gettysburg Family Practice, as well as Dr. Ayoola Akinbamowo and Dr. Mohit Kapoor and their staff at DaVita Hanover Dialysis, and Dr. Blessing Nollah and staff of Wellspan Medical Oncology and Hematology in Hanover. A special thanks also to Dr. Keith W. Pratz and Dr. Caitlin Merley and their staff at the University of Pennsylvania Hospital in Philadelphia.

The family would also like to thank all of Cookie's steadfast family and friends for all of their prayers, devotion and love shown to Cookie and Wayne during Cookie's illness. Cookie fought the good fight against kidney failure and cancer for five years, and worked hard to bring awareness to the National Kidney Foundation's kidney transplant program. Her faith, strength and amazing positive outlook never faltered during her journey.

Prior to her death, Cookie made it known that she did not want anyone to be sad by her passing, and requested that her memorial service be private. The family is respecting her request, but invites you to share your condolences, photos and memories of Cookie online at the Memorial page set up in Cookie's name at monahanfuneralhome.com. Donations in Cookie's honor and memory may be made to the National Kidney Foundation at kidney.org/donation.
Read More