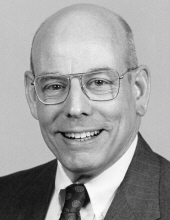 Obituary for Ronald B. Crawford
The Rev. Ronald Brewster Crawford, 87, of Gettysburg died peacefully on Monday, October 22, 2018 in Gettysburg Hospital with his family by his side.
He was born in New Haven, CT, on January 3, 1931, to the late Emerick Brewster and Edwina Greist Crawford. He graduated from the Hill School, Pottstown PA in 1949, and entered Yale University.
He served in the U.S. Air Force during the Korean War as a Mandarin Chinese linguist intercepting enemy radio traffic, and received the Air Force Outstanding Unit Award as part of the 15th Radio Squadron for operating behind enemy lines. Following this tour he returned to Yale and graduated in the class of 1957 with a BS degree in sociology and Mandarin Chinese.
He married Nancy Taylor on October 10, 1964, and they recently celebrated 54 years of marriage.
He is also survived by 5 children: Dr. Amy Crawford-Faucher [Gus], Pittsburgh; Susan Morris, Altamonte Springs, FL; Rachel [Lawrence] Maggio, Bethpage, NY; Tad Crawford [Y. C. Miller], Oakland, CA; and Katherine [John] Carman, Warner Robins, GA; and12 grandchildren: Justine, Ford, Theo and Antoinette Faucher; Wyatt, Mitch and Remy Morris; Drew, Owen and Julia Maggio; and Violet and John Wane Carman. He leaves behind a sister, Madeline C. [Dr. Peter A.] Flynn, Reston, VA; a brother-in-law, Lloyd Stephen Riford, Jr. Maui, HI; Nancy's cousin, Diane Hynd of Southbury CT; 9 nieces and nephews, and their families. He was predeceased by a sister, Susan C. Riford.
Ron spent most of his career in personnel and industrial sales and later in residential real estate in the Ithaca, NY and Frederick, MD areas. In 2000 he was voted FCAR's "Realtor of the Year".
He lived a full life, blessed by a love of words and service to country and community. While living in upstate Spencer, NY, he helped to establish the volunteer Spencer Emergency [ambulance] Squad. He was a Boy Scout leader and served as the Spencer Town Supervisor.
He was an active member of Rotary International, serving in 4 different clubs; Bernardsville, NJ; Athens, PA; Ithaca, NY; and Gettysburg, PA. He was named a Paul Harris Fellow in the late 1970s during Rotary's Polio Plus campaign.
He had a lifelong interest in religion, starting with several lay roles in the Episcopal Church following his singing in a Boy's choir in New Haven, CT as a youth. In the 1980s his and Nancy's faith journey led them to become active Unitarian Universalists. On June 1, 2003, he was ordained as a pastoral minister by the Rev. John Morehouse in Frederick, MD. Ron served as the pastoral minister of the Unitarian Universalists of Frederick for several years and was the first full-time minister of Unitarian Universalists of Gettysburg from 2005-2007. For 18 years he was privileged to officiate at almost 400 weddings. In addition, he trained to be a volunteer chaplain and served at both the Gettysburg and Hanover hospitals. He also served as a volunteer with Aseracare Hospice until this spring. At the time of his death he and Nancy were serving as co-treasurers of the Gettysburg Ministerium, a position he had held since April, 2006.
A Celebration of Life will be held at 2:00 PM, Saturday, October 27, 2018 at Trinity United Church of Christ, 60 E. High St., Gettysburg, PA with reception following the services in the church hall. The family will receive friends from 6-8 PM, Friday evening, October 26, 2018 at the Monahan Funeral Home, 125 Carlisle St., Gettysburg, PA. Private internment will follow at a later date. Online condolences may be made at monahanfuneralhome.com.
In lieu of flowers, contributions in Ron's memory may be made to the Unitarian Universalists of Gettysburg, 136 S Stratton St., Gettysburg, PA, or to the Gettysburg Ministerium, P.O. Box 3252, Gettysburg PA 17325.
Read More
Previous Events
Visitation
Monahan Funeral Home
125 Carlisle Street
Gettysburg, PA 17325
Service
Trinity United Church of Christ
60 East High Street
Gettysburg, PA 17325