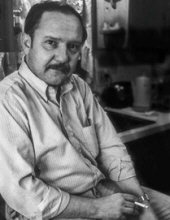 Obituary for Ronald D. Baker
Ronald D. Baker, 75, of Gettysburg, passed away early Thursday, August 13, 2020, at York Hospital, after a short illness.

He was born in Biglerville on February 5, 1945, to John and Rema Baker. Following his graduation from Gettysburg High School, he served on active duty in the U.S. Army and Pennsylvania National Guard as a field artillery officer. He performed Army Guard service during natural disaster relief activities following Hurricane Agnes and the Johnstown flood. He also worked for a number of years as a trust officer for Adams County National Bank.

Ron enjoyed outdoor and rural hobbies, including target shooting, hunting, fishing, and fun times in the past spent at the family cabin in the Tuscarora State Forest. While Ron's love of all things outdoors included large and small game, it did not, however, include snakes.

Additionally, he was active in many fraternal organizations and charitable endeavors over the years, including Freemasonry, Elks, Eagles, Moose, Optimist International, American Legion, The 40 & 8, AMVETS and the National Rifle Association. Ron's immeasurable love for America led to a lifelong hobby of curiosity and research into all types of history, especially the history of the Gettysburg Battlefield. He enjoyed visiting the Battlefield and giving impromptu tours to various family and friends over the years.

Those left to mourn his passing include his loving wife of 31 years, Virgie, and beloved cat Charity, of the family home in Gettysburg; sons Wes (Carol) Baker of Las Cruces, NM, and Greg Baker, of Audubon, NJ; sister Ruth Harman of Gettysburg; stepsons Greg (Hope) Plank, of Cashtown, and Barry (Tammy) Plank of Aspers. He is also survived by nephew Brian Harman and family, and several step-grandchildren. Ron was preceded in death by his parents, sister Margaret Baker and her husband Carl Baker; and brother-in-law James Harman.

A private graveside service will be held at Evergreen Cemetery in the near future. A larger celebration of Ron's life is being planned for a later time.
Read More