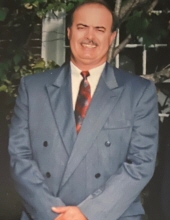 Obituary for Ronald Elwin Blondin
Ronald Elwin Blondin, 75, died Monday, January 6, 2020 at the Gettysburg Center following a fight against pancreatic cancer.
He is survived by his sons Jamie and Casey; their wives Heather and Julia; four grandchildren, Hailey, Jessica, Kyle, and Madison, as well as his sister Cheryl, brothers Doug and Gary, and many cousins, nieces, and nephews.
Born and raised in Cabot, VT, Ron worked on the family farm with his siblings, including his other sister, Donna, until he graduated from Cabot High School in 1963. He joined the Army and served from 1964 to 1966. He later joined the South Burlington, VT Police Department and started a family. In 1975 he moved his family to Maryland and served with the Howard County Police Department for about 20 years. When he retired from the police force, he worked miscellaneous jobs to keep busy and continue to support his family. In 2007 he moved to Fairfield, PA.
Ron provided a great life raising 2 boys, sharing his love of camping and outdoor activities, such as hunting and snowmobiling, as well as his belief in hard work. He took his family camping as often as possible and spent quality time with his boys. His passion for baseball shaped his lifestyle and became one of his favorite things to enjoy and to share. He also became an avid stamp and coin collector.
A family service and celebration will be held on a later date at the Durant Cemetery in Cabot, VT, where he will join his father Elwin, his mother Eleanor, and his sister Donna. The Monahan Funeral Home is in charge of the funeral arrangements and online condolences may be made at monahanfuneralhome.com.
Read More