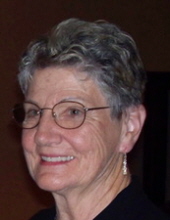 Obituary for Ruth Anna (Ruthanne) Miller
Ruth Anna (Ruthanne), 85, formerly of Gettysburg, PA fell asleep in death at her home, in Fort Pierce, FL with her family by her side. Though her hospice care time was brief, she endured various health issues for many years.
Born April 26, 1936 in Gettysburg, PA she was the daughter of the late Samuel and Grace (Richwine) Shull. She was the wife of the late Bernard V. Miller, Jr. who died May 8, 2001.
Mrs. Miller was a 1954 graduate of Gettysburg Area High School. She retired after 24 years serving as custodian at the Gettysburg Area School District. She also worked at Adams County Novelty Furniture Company. She enjoyed spending time with family, her cats, grandcats, granddogs, gardening, observing nature, bird watching, reading the Bible and learning about God, she attended meetings of Jehovah's Witnesses. In addition, she enjoyed watching the Philadelphia Phillies and Eagles, drawing pictures, doing word search, and jigsaw puzzles.
Ruthanne is survived by her daughter, Rita M. Gilbert and her husband Tony, of Fort Pierce, FL, her two granddaughters, Julie A Gilbert and her husband Doug Wheeler, Jessica L. Morris and her husband Devon, her great granddaughter, Hailey M. Morris, her two sisters, Hatty Ketterman, of Gettysburg, PA, Nancy Snead, of Kingsport, TN, and a number of nieces and nephews. She was preceded in death by five siblings, Charles Shull, Samuel Shull, Annetta Cluck, William Shull, and Catherine Leedy.
Funeral services, being handled by the Monahan Funeral Home, will be private and at the convenience of the family. Online condolences may be made at monahanfuneralhome.com.
Family suggests memorial contributions be made to the American Heart Association, the Ameircan Cancer Society, or the Michael J. Fox Foundation for Parkinson's.
Read More