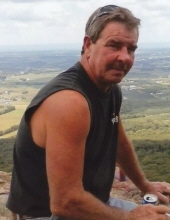 Obituary for Scott A. Carbaugh
Scott Alan Carbaugh, 59 of Gettysburg, PA passed away Sunday, December 20, 2020 at home with his loving family by his side.

Born in Gettysburg on May 06, 1961, he was the son of Patricia (Bevenour) Carbaugh of Abbottstown, PA and the late Danny Carbaugh.

Scott worked in the construction field most of his life. He loved what he did, his favorite job was building pole buildings. Scott was proud to say he was the one on the "peak", setting trusses. He was always the climber, sometimes as high as 40 feet in the air. Many of his younger co-workers learned the skills of the trade from him, showing and teaching them from his many years of experience. His family recalls driving down the road with him and Scott pointing out a pole building and saying "I built that". As Scott got older, he continued to do jobs, such as building decks and remodeling. He will be missed by many of "the job crew". The job never stopped though as he always found something to do, whether it was helping a neighbor nearby or cutting/selling firewood to the local campers. Scott spent most of his "retired years" riding his motorcycle, spending time with his family and enjoying being outdoors.

In addition to his mother, he is survived by his wife Doris, daughters, Brittany Carbaugh (Brian Shelleman) and Kayla Carbaugh (Eric Sanders) both of Gettysburg, a step-son, Travis Baum of Littlestown, PA, grandchildren, Brian and Bentley and a grandchild due in July, 2021, three brothers, Sonny Carbaugh (Wanda) of Abbottstown, PA, Steve Carbaugh (Charlotte) of Spring Grove, PA and Charley Brown of Biglerville, PA, two sisters, Sherry Meckley (Andy Groft) of Hanover, PA and Sandy Bolan of Biglerville, PA and his two beloved "pupper dogs", Bella and Leo.

Due to the Covid 19 outbreak a memorial service will be held at a safer and later date. The family suggests memorials to SpiriTrust Lutheran Homecare and Hospice, 2700 Luther Drive, Chambersburg, PA 17202. The Monahan Funeral Home in Gettysburg is assisting the family with the arrangements, online tributes and condolences can be made at monahanfuneralhome.com.
Read More