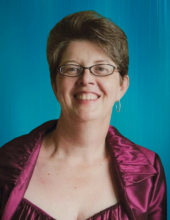 Obituary for Sharon E. Simpson
Sharon E. (Stover) Simpson, 62, of Burkittsville, MD, passed away peacefully with her dogs Molly and
Walker on July 15, 2022, at her home. Sharon was born in Gettysburg on March 26, 1960 and was the
daughter of the late Robert Q. and Lois (Hartman) Stover. Sharon was predeceased by
her husband Patrick Simpson and her brother Brian Stover.
Sharon was a member of Flohr's Lutheran Church, McKnightstown, before her marriage. She is
presently an active member of Middletown United Methodist Church, Middletown, MD.
Sharon graduated from Gettysburg High School and held degrees from Messiah College and Mount
Saint Mary's College. She worked at the Lamp Post and Adams County National Bank. After her
marriage she held jobs at St. Mary's College in Dodge City, KS and Johnson Controls, Muskegon, MI.
She returned to MD and became a devoted employee of L. Fishman & Son, Baltimore, MD.
Sharon is fondly remembered for her love of dogs, especially dalmatians and tending her lawn and
flowers. She loved to sing and play handbells any where she lived. She also enjoyed reading Nora
Roberts and watching Hallmark movies. A trip to Mr. G's in Gettysburg for black raspberry ice cream
was a pleasure. She was always working on family geneology.
Sharon is survived by her daughter Courtney and son-in-law Adam Marymee of GA. She is also
survived by cousins Marie Re (Art), Louise Kauffman (Fred), Donald Bowling (Ginny), Ruth Ann
Spence and Keith Bowling (Karen), James Hartman and George Hartman. Aunt Alice and Uncle
George Bowling and Uncle James and Aunt Carolyn.Hartman preceded her in death.
She is also survived by aunts Diane Stover, Rebecca Stover, Linda Parker and Susan Welsh; and many
cousins, nieces, and nephews.
Special thanks to her good friend Melanie Hall for the guidance and support to Sharon. She had many
family members, co-workers, neighbors and friends who assisted her these last two years. Brite Star
of Frederick, MD and Frederick Hospital Hospice provided healthcare for her.
Funeral services will be held August 1, 2022 with visitation from 10 to 11 a.m. followed by the service
at 11:00 a.m. at Monahan Funeral Home, 125 Carlisle Street, Gettysburg, with the Rev. Douglas Boden
officiating. Interment will follow the service at Flohr's Cemetery, 595 Flohr's Church Road,
McKnightstown, PA 17343.
In lieu of flowers, donations may be made to Briggs Animal Adoption Center, 3731 Berryville Pike,
Charles Town, WV 25414.
Read More
Previous Events
Visitation
Monahan Funeral Home
125 Carlisle Street
Gettysburg, PA 17325
Service
Monahan Funeral Home
125 Carlisle Street
Gettysburg, PA 17325
Cemetery Details
Location
Flohr's Cemetery
595 Flohr's Church Rd.
McKnightstown, PA 17343