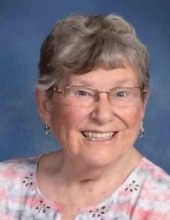 Obituary for Shirley A. Kuhn
Shirley A. Kuhn, 83, The Brethren Home Community, formerly of Gettysburg, PA passed away Wednesday, February 8, 2023 at the Brethren Home.
She was born March 9, 1939 in Gettysburg, PA the daughter of the late Cletus and Oneida Foulk Sanders. She is survived by her husband of 47 years, Donald Kuhn.
Shirley was an active member of St. Paul's Lutheran Church in Biglerville, PA. Shirley graduated from Gettysburg High School in the Class of 1957. She co-owned and operated Ziegler Studio of Photography and became sole owner in 1975. She was a former President of the Gettysburg Retail Merchants and an active member of the Chamber of Commerce where she received the Small Business of the Year Award. Shirley was a former Co-Chair of the Gettysburg Hospital Ball and also the First American Heartwalk held in Gettysburg. After selling the studio she became a Tipstaff at the Adams County Courthouse until her retirement. Shirley loved watching her children, grandchildren and great grandchildren grow up, being active in their lives and family times spent together.
In addition to her husband, Shirley is survived by five children; Cindy Lawver and her husband Rick of Fayetteville, PA, Diane Fox and Gene of Ashburn, VA, Bud Kuhn and his wife Deb of Millville, DE, Rennie Black and her husband Tim of Gettysburg, PA, Bob Ziegler and his wife Judy of Myersville, MD, 11 grandchildren; Joey Campbell and wife Deb, Brian Campbell and wife Jackie, Annie Byrd and husband Lance, Kacee Ramdial and husband Peter, Ashley Benson and husband JJ, Ryan Kuhn and wife Ariel, Brandon Black, Ali Black, Judd Ziegler and wife Maddie, Tucker Ziegler and wife Anya and Becca Ziegler, 21 great grandchildren, and a sister, Ethel Angell of Gettysburg, PA. She was predeceased by brothers and sisters; Cpl Earl W. Sanders, Sara Clapsaddle, son-in-law, Jim Fox, brother-in-laws; Leroy Angell, Gene Clapsaddle, Robert Allison and Raymond Kuhn.
A Memorial Service will be held Saturday, February 18, 2023 at St. Paul's Lutheran Church, Biglerville, PA at 11:30 AM with Rev. Ryan Heycock officiating. In lieu of flowers memorials can be made to St. Paul's Lutheran Church, 25 Franklin Street, Biglerville, PA 17307 or the Adams County Children's Advocacy Center, 450 West Middle Street, Gettysburg, PA 17325. Online obituary and condolences available at monahanfuneralhome.com.
Read More
Previous Events
Service
St. Paul Lutheran Church
25 Franklin St.
Biglerville, PA 17307