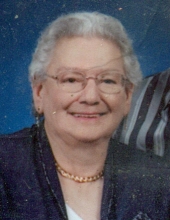 Obituary for Shirley A. "Nook" Kreitz
Shirley "Nook" A. Kreitz, 80, of Fairfield, PA died Sunday evening, December 25, 2016 at the York Hospital.
Born February 26, 1936 in Fairfield she was the daughter of the late Robert A. and Margaret E. (Shindledecker) Fleming. She was the wife of Richard L. Kreitz, of Fairfield to whom she was married to for 62 years.
Mrs. Kreitz was a member of St. Mary's Catholic Church in Fairfield. She worked for a number of years at the Blue Ridge Pipe and Nipple. She loved to watch the birds and go for rides in the autumn time to watch the leaves fall. She loved all her grandchildren and great grandchildren and will be especially missed by her loving husband, Rich.
In addition to her husband, Shirley is survived by her two sons, Robert "Bob" L. Kreitz and his wife Colleen, of Fairfield, PA, Ricky L. Kreitz and his wife Yevette, of Orrtanna, PA, four grandchildren, Jessica Dean and her husband Troy, Beth Smallwood and her husband Christopher, Josh Kreitz and his wife Amy, Brandi Keller and her husband Tony, seven great grandchildren, Nora "Kitten" Dean, Irie "Little Bit" Smallwood, Emmett "Little Bob" Dean, Madison Kreitz, Sydney Kreitz, Wyatt Keller, Grace Keller, her aunt, Mary Jane Wilson and her husband Charles and several nieces and nephews.
Funeral services being handled by the Monahan Funeral Home, will be private and at the convenience of the family. Online condolences may be made at monahanfuneralhome.com.
Read More