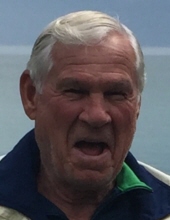 Obituary for Steven Frederick Whiteside
Steven Frederick Whiteside, 79, of Gettysburg, PA, passed away in the early morning hours of September 28, 2022, at home with his family.
Steve was born on November 24, 1942, to Dorothy and Fred Whiteside in Manhattan, New York. Steve was preceded in death by his brother, Craig Whiteside. He is survived by his loving wife of 56 years, Martha Grove Whiteside; two daughters – Meg (Anthony) Mastromarchi and Kathleen (Roger) Anderson; and three grandchildren--Jacob Anderson, Annabel Anderson, and Ky Anderson along with an extensive extended family and many lifelong friends.
Steve graduated from Bucknell University in 1965 and began a successful career in sales. He worked for and owned different companies, but what he was best known for was establishing relationships. Once you knew Steve, you knew him for life. He had a magnetic enthusiasm that he shared with all who knew him. He went out of his way for family and friends, no deed for another was too big for him. He thrived on making life easier and better for others. His heart could not have been bigger.
Life was meant to be experienced, and Steve was always ready for the next great quest. He was always researching, planning, and coordinating the next adventure. His love of history, geography, and global conflicts resulted in several trips with fraternity brothers to various European and Civil War battlefields. Steve loved to travel and made many memories with Martha and their family and friends throughout the years.
Steve always kept busy. He was an involved volunteer with his church, Prince of Peace Episcopal; The Gettysburg Soup Kitchen; and The Gettysburg Foundation, which worked to preserve the Gettysburg National Military Park. He kept physically active and played racquetball most of his life switching to pickle ball in later years. He enjoyed board games, especially Quirkel and Rummikub. He was a voracious reader always having several books going at the same time. He loved Penn State Football and watching his granddaughter play soccer. Steve was also known for his love of writing whether it be a note to friend, a follow-up to a meeting, or a rhyming couplet. In that spirit we say, "Don't cry because it's over. Smile because it happened."- Dr. Seuss
In lieu of flowers, donations may be made to Death with Dignity at https://deathwithdignity.org/c4-donate/
A celebration of life is being planned for later.
Read More
Events
Event Information
Services will be set for a future date to be determined.