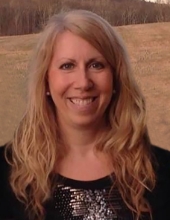 Obituary for Sue A. Orndorff
Sue A. Orndorff passed away on February 19, 2023, after an odds-defying battle with cancer that she fought with tremendous courage, dignity, and grace. She was born July 18, 1964, to the late Vernon and Mary(Bupp) Kepner.
She is survived by her loving husband of 39 years Bradley; her "greatest accomplishments," sons Jordan Orndorff and Brandon Orndorff(Abby); stepson BJ Wagner(Julie); grandsons Brady, Tucker, and Chris; granddaughters Haydyn and Ryleah; sisters Linda Kepner, Jean Kepner, MaryBeth Mickley (Charlie; Cameron and Nathan) Cyndi Smith (Brad; Brienna and Dustin/Jaime/Stella), aunt Ruth Hackman; numerous cousins, sisters and brothers-in-law, nieces and nephews, and extended family.
Although Sue has four biological sisters who love her beyond compare, she was blessed with fabulous surrogate sisters. To know her was to love her, and she amassed a list too lengthy to individually cover here. Her lifelong high school pals, her ever-faithful Bible study tribe, and her tried-and-true friends of many decades from various points in her life surrounded her with laughter and support throughout the good times and the hard times.
Sue was a graduate of Gettysburg Area High School and Elizabethtown College. When the boys were elementary school age, she provided in-home daycare for a handful of little ones whose families became and remain an important part of her family. She spent a brief time as an assistant for Viking Freight until it was acquired by FedEx. After a period of substituting, she began her 16 year career as a learning support paraprofessional at Gettysburg Area High School. Her coworkers and students loved and respected her for her dedication, competence, kindness, and quiet humor. She shared many good times with her GAHS friends during her service in this challenging and rewarding work.
Sue enjoyed socializing, shopping for bargains and fashion, beach vacations, University of Michigan sports, and fun events with family and friends. Her greatest joy came from her grandchildren Brady, Tucker, Ryleah, Haydyn, and Chris. She played an active role in their lives and created many memories for them to cherish. Sue was their biggest fan and faithful cheerleader. Mimi will be sending love to them from the heavens and back.
She was an amazing wife, mother, grandmother, sister, aunt, cousin, colleague and friend. She touched the lives of so many people. She will be missed tremendously and will never be forgotten.
Thank you to friends and family members for your prayers, positive energy, well-wishes, texts/calls/cards, visits, meals, treats, gifts, and flower arrangements. We knew that we were always in your hearts and minds. Your love and generosity sustained us. We are grateful to have you in our lives.
We would also like to extend sincere gratitude and thanks to Dr. Satish Shah, Mandy Weikert, CRNP, and the dedicated staff of the Gettysburg Cancer Center. Their tremendous knowledge, exceptional professionalism, and compassionate care throughout Sue's treatment helped to make a terribly difficult time better. In addition, special thanks to Jenn B. of the VNA of Hanover and Spring Grove Hospice for her exceptional care and understanding during her many visits. Her presence was reassuring, calming, and comforting to Sue and the family.
The family will receive friends from 2 p.m. to 4 p.m. and 6 p.m. to 8 p.m. on Friday, February 24, 2023, at Foursquare Gospel Church, 328 West Middle Street Gettysburg. Online obituary and condolences are available at monahanfuneralhome.com.
A memorial service will be held Saturday, February 25, 2023, at Foursquare Gospel Church, 328 West Middle Street, Gettysburg, at 11:00 a.m. with a visitation hour at 10:00 a.m. Reverend Matt Pensinger officiating. Interment will be private.
Memorial contributions can be made to VNA of Hanover and Spring Grove Hospice, 440 Madison Street, Hanover, Pa 17331 or via telephone at 717-637-1227.
Read More
Previous Events
Visitation
Foursquare Church
328 West Middle St.
Gettysburg, PA 17325
Visitation
Foursquare Church
328 West Middle St.
Gettysburg, PA 17325
Visitation
Foursquare Church
328 West Middle St.
Gettysburg, PA 17325
Service
Foursquare Church
328 West Middle St.
Gettysburg, PA 17325
Cemetery Details
Location
Upper Marsh Creek Cemetery
Black Horse Tavern Rd.
Gettysburg, PA 17325