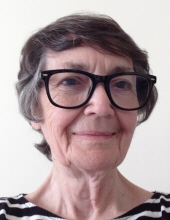 Obituary for Sylvia J. Weaver
Sylvia Joan Weaver slipped away peacefully, Monday evening, December 26, 2022.

She was born February 20, 1939 in Corvallis, Oregon to Rolland Scott and Frances Madge (Loudenslager) Scott.
She attended a variety of schools in Michigan, England, and New York State, as her father was a veterinarian in the U.S. Air Force. She graduated from Washingtonville, New York High School in 1957 and attended Mary Balwin College, and graduated from the University of North Carolina in 1961.
Sylvia was married for 50 years to Donald Eugene Weaver, a Gettysburg son, until his death in 2015. She is survived by her sons, David Scott Weaver (Jennifer) of Gettysburg, Daniel Paul Weaver (Lori) of Kennebunk, Maine and grandchildren, Allison Weaver, Boston, Mass., John Weaver, Jacksonville, FL, and Sarah Weaver, Kennebunk, ME. Also four step-grandchildren, Charles, Niko (Annie), Dominic, and Ava Haritos. She is also survived by siblings, Rolland Scott, of Lino Lakes, MN, and Beth Scott Adams (Paul), of Colon, MI. She was preceded in death by her daughter, Donna Marie Weaver and brother, John Gordon Scott.
Her husband, Don's, career in the U.S. Air Force moved the family to Okinawa, Alabama, Thailand, Texas, Taiwan, and Maryland, and eventually to a final retirement in Don's hometown of Gettysburg, PA. Sylvia enjoyed reading, quilting, and playing cards with friends. She volunteered with many organizations, her favorites being The Friends of the Library and South Mountain Fair. Every summer she was proud of her large vegetable garden. And she was so happy to fledge bluebirds and tree swallows from her back yard.
Funeral services, being handled by the Monahan Funeral Home, will be private and at the convenience of the family. Online condolences may be made at monahanfuneralhome.com.
Family suggests memorial contributions in Sylvia's name be made to the Adams Rescue Mission, 2515 York Rd., Gettysburg, PA 17325 or to South Central Community Action Program (SCCAP) 153 N. Stratton St., Gettysburg, PA 17325.
Read More