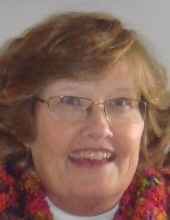 Obituary for Tem B. Tipton
Tem Bulleit Tipton, 71, died unexpectedly on Tuesday, January 30th
while on vacation with her husband, Charles F. Tipton (Charlie), in Pensacola Beach, Florida.

Tem was a native of Gettysburg and an integral member of the local community. Born on November 8, 1946, she was the daughter of Edward Bulleit and Thelma Warman Bulleit, two long time Gettysburg residents.

All of her life, Tem had to explain the origin of her unique name, which is every other letter in her mother's name (Thelma) and sounds like the French phrase jet'aime, meaning "I love you."

Tem graduated with the Class of 1964 from Gettysburg High School and then earned her bachelor's degree in English and Secondary Education from Lycoming College, graduating with cum laude honors in 1968. She then attended graduate school at the University of Illinois, where she earned a Master's Degree in Library Science in 1969.

In September 1968, while at the University of Illinois, Tem was contacted by Charlie, another 1964 graduate of Gettysburg High School, who was at Illinois on an NROTC scholarship. As two old classmates, Tem and Charlie met to reminisce about high school days....they married on May 31, 1969. Since Charlie was a naval aviator, they moved around frequently, living in locations including: Pensacola, Florida; San Diego, California; and Cubi Point, Philippines.

When Charlie reentered civilian life, they initially lived in Fort Worth, Texas, and then in 1983 returned to their hometown of Gettysburg, to be close to their families and raise a family of their own. Tem served as the Information Services Director for the Adams County Library System and was a substitute teacher for the Gettysburg Area School District. She was a member of the Land Conservancy of Adams County and the Adams County Historical Society; as well as a life member of the Gettysburg Hospital Auxiliary and Friends of the Adams County Library. Tem was an avid bridge player and enjoyed the friendship of many through her love and enjoyment of the game, which she participated in at every opportunity. She taught all of her grandchildren how to play cards and they particularly liked when they were able to beat her. Shealso enjoyed her extensive domestic and international travels with Charlie during their retirement.

In addition to her husband, Tem is survived by a daughter, Dr. Kathryn A. Silvis (Kate), who is Chair of the Education Department at La Roche College and lives near Pittsburgh with her husband Dr. Brian Silvis and their children Phillip (10) and Clara (8). Tem's son, Jeffrey E. Tipton (Jeff) is the Product Engineering Group Leader at RH Sheppard and lives in the same house where Tem grew up in Gettysburg with his children Ethan (20) and Zachary (12). All four of her grandchildren affectionately called her "Nans" and she was immensely proud of all of them.

There will be a celebration of Tem's life at 1:00pm on Saturday, February 10th at the Sidney Willoughby Run restaurant, 730 Chambersburg Road, Gettysburg. The family will begin receiving guests at 11:30am, and all guests should arrive by 12:45pm.






In lieu of flowers, the family suggests memorial contributions be made for a scholarship to benefit education majors in honor of Tem. Donations should be sent to La Roche College, Institutional Advancement, 9000 Babcock Blvd., Pittsburgh, PA 15237. Please mark the donation "In memory of Tem Tipton". Online obituary and condolences available at monahanfuneralhome.com.


Previous Events
Service
Sidney's at Willoughby Run
730 Chambersburg Road
Gettysburg, PA 17325
Visitation
Sidney's at Willoughby Run
730 Chambersburg Road
Gettysburg, PA 17325