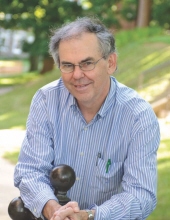 Obituary for Terence A. Dalton
Terence A. Dalton, 71, of Gettysburg, died January 27, 2017 at SpiriTrust Lutheran Home after a long battle with Alzheimer's disease. He was born February 14, 1945 in Morristown, New Jersey, son of the late Andrew J. Dalton and Emily S. (Smith) Dalton. He is survived by his wife of 35 years, Kathleen Iannello, sons Andrew I. Dalton of Gettysburg, Trevin Dalton of Alexandria, VA, and Brendan Dalton of York, PA, three grandchildren, and four nephews. He had an especially close relationship with his brother, Dennis Dalton, of Portland, OR.
Terry grew up in Mendham, NJ, and was a member of West Morris Regional High School's class of 1963. He attended Lafayette College in Easton, PA, graduating in 1967 with a BA in History. Upon graduation, he enlisted in the Air Force and was stationed at Sheppard Air Force Base in Wichita Falls, Texas. Working as an information specialist, he wrote for the base newspaper during the Vietnam War. In 1971, he left the Air Force at the rank of Sergeant to attend Journalism school at The Pennsylvania State University.
After earning his Master's Degree in Journalism, Terry spent over a decade as a reporter and eventually State Editor of The Centre Daily Times in State College, PA. Most of his time was spent covering state and national politics in Harrisburg. In 1981, he married Kathy Iannello, a fellow graduate of the Penn State journalism program and, at the time, a Ph.D. candidate in Political Science. Together they shared a passion for politics and news reporting. On their honeymoon in the Bahamas they met and interviewed Muhammad Ali who was there training for the final fight of his career. During Terry's tenure at the Centre Daily Times, he interviewed many notable public figures including Presidents Gerald Ford, Jimmy Carter, and George H. W. Bush, along with a host of governors, members of Congress, presidential candidates, and civil rights activists. He was a member of The Society of Professional Journalists, The Harrisburg Capitol Press Corps, and The Pennsylvania Legislative Correspondents' Association.
In 1985, Terry left the Centre Daily Times to accept a teaching position at Castleton State College (now Castleton University) in Vermont, where he taught courses in basic newswriting, public affairs reporting, and advised the student newspaper. In 1990, Terry and Kathy left Vermont to accept teaching positions at Western Maryland College (now McDaniel College) and Gettysburg College, respectively. As a professor at McDaniel College from 1990-2012, Terry built a journalism minor in the English Department and was known for bringing local as well as national correspondents to campus as guest speakers in his journalism courses. He was also very active with the Association for Educators in Journalism and Mass Communication (AEJMC), through which he co-founded an interest group for journalism educators at smaller institutions and organized and moderated panels on press coverage of major news events.
Besides Journalism, one of Terry's greatest passions was baseball. From an early age he followed the career of Jackie Robinson and other members of the Brooklyn Dodgers. Heartbroken when his team left New York, Terry would eventually become a fan of the Montreal Expos and was thrilled when his team moved to Washington, DC to become the Washington Nationals. He enjoyed attending baseball games with his sons, coaching their soccer and Little League teams, and he instilled in them an unyielding commitment to treating others with fairness and respect. He brought energy and passion to everything he did, and, through his teaching, impacted several generations of budding journalists, with some going on to careers with major national newspapers and television networks. He approached every day with a positive attitude, and taught everyone around him to see the good in life and embrace it.
A memorial service will be held at 2 pm on Sunday, Feb. 19 at McDaniel College in Little Baker Chapel. A reception will immediately follow at McDaniel Lounge. A private burial will take place at Evergreen Cemetery. Arrangements are being handled by the Monahan Funeral Home. Online obituary and condolences available at monahanfuneralhome.com. In lieu of flowers, contributions may be made to Penn Memory Center, Attn: Terrence Casey, 3615 Chestnut Street, Rm. 236, Philadelphia, PA, 19104. Checks should be made out to: Trustees of the University of Pennsylvania.
Read More
Previous Events
Service
Little Baker Chapel
McDaniel College
Westminster , MD
Reception will immediately follow Memorial Service at McDaniel Lounge on the campus of McDaniel College
Cemetery Details
Location
Evergreen Cemetery
799 Baltimore St.
Gettysburg, PA 17325