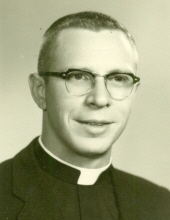 Obituary for The Rev. Dwight A. Huseman
The Rev. Dwight A. Huseman, Sr. of Gettysburg died Wednesday afternoon, February 22, 2017, at his home after a brief illness. He was surrounded by his loving wife and children.
He was born January 17, 1936 in White Haven, PA., son of Elmer E. and Erma (Reiner) Huseman. He is survived by his wife of 55 years, Sandra (Kimmel) Huseman, his college sweetheart. He is also survived by his son, Dwight Alan, Jr. and his wife Christine and their daughter, Elizabeth; daughter Leigh Anne and her husband Robert Hamilton. He is also survived by a brother Elmer L. Huseman.
He was a graduate of White Haven High School; received his B.A. in 1957 from Susquehanna University; his B. Div. 1960. and S.T.M. in 1966, both from the Lutheran Theological Seminary in Philadelphia. He also earned an M.S. in Library Science from Drexel University in 1969. He was a member of Pi Gamma Mu and Beta Phi Mu honor societies. He was ordained by the Lutheran Church in 1960 and retired in 1998.
Pastor Huseman was a mission developer and first pastor of Christ the King Lutheran Church, Kendall Park, NJ and Holy Spirit Lutheran Church, Centerville, VA. He was also pastor of Zion Lutheran Church, Riverside, NJ and Christ Lutheran Church, Somerset, PA. He served in numerous churches in Adams County and surrounding area as interim minister.
From 1971-1987 he was librarian at Gettysburg College. During that time he was elected president of the Interlibrary Delivery Services of PA (1980-83) and president of the Pennsylvania Library Association (1986). At the college he was also Director of Church Relations.
He was a speaker for the Strength and Mission Appeal, secretary of the Central Penn Synod Commission on Mission and Ecumenicism and consultant for the LCA Central PA Synod Commission on Higher Education.
He was a member of St. James Lutheran Church in Gettysburg.
Gifts in his memory may be given to Lutheran World Relief, PO Box 17061, Baltimore, MD 21297-1061.
A private graveside service will be held at a later date in Evergreen Cemetery, Gettysburg. Arrangements are being handled by the Monahan Funeral Home and online condolences may be made at monahanfuneralhome.com.


Cemetery Details
Location
Evergreen Cemetery
799 Baltimore St.
Gettysburg, PA 17325