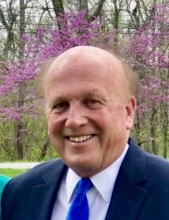 Obituary for The Rev. Jay E. Zimmerman
The Rev. Jay E. Zimmerman, 68, of Gettysburg, PA entered into eternal life on Wednesday afternoon, January 13, 2021 at Gettysburg Hospital.
Born June 8, 1952 in Philipsburg, PA, he was the son of the late Rev. Dr. Elwood and Dolores (Johnson) Zimmerman. He was the husband of Linda P. (Meals) Zimmerman, of Gettysburg, to whom he was married for 46 years.
Both his grandfather and father were pastors within the Susquehanna Conference of the United Methodist Church. After graduation from Central Dauphin High School in 1970, Jay graduated from Lycoming College in 1974 where he studied religion and history before obtaining a M.Div. from Wesley Theological Seminary in 1977. Rev. Zimmerman married Linda of Lancaster, PA on August 17, 1974. He served in ministry to the following United Methodist Congregations: Bald Eagle (1977-80), Harrisburg (Paxton 1980-1996), Waynesboro (Christ Church 1996-2004), and Gettysburg (2004-2018). In addition, Rev. Zimmerman most recently initiated outreach programs through Gettysburg United Methodist Church including Dinner at 6, the annual community Thanksgiving dinner, furniture ministry, and Gettysburg UMC's semi-annual community yard sale. He also led and participated in the Gettysburg Ministerium, where he was instrumental in spearheading their battlefield summer worship services and the annual live nativity. Furthermore, he served on the boards of the Gettysburg Housing Authority and the Adams Christian Prison Ministries.
In addition to his wife, Jay is survived by his daughter, Erin L. Rochefort and granddaughter, Adrianna Rochefort, of Gettysburg, PA, his daughter, Lauren M. Rice, son-in-law, Garrett Rice, and future granddaughter in June 2021, of Wilmington, DE, and his sister, Paula Zimmerman, of Mechanicsburg, PA.
Rev. Zimmerman is most remembered by his love for his family, devotion to Christian ministry, and his passions for Golden Retrievers, horses, antique automobiles, and landscaping. He will be greatly missed but fondly remembered and appreciated by his family and friends.
Funeral services, because of the COVID-19 restrictions, will be private and at the convenience of the family, but there will be a public service when the pandemic subsides. The Monahan Funeral Home is handling the arrangements, and online condolences may be made at monahanfuneralhome.com.
In lieu of flowers, memorial gifts may be made to the South Central Community Action Program (SCCAP) at https://www.sccap.org/ or Ruth's Harvest Gettysburg at https://ruthsharvestgettysburg.org.
Read More