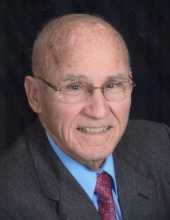 Obituary for Theodore P. "Ted" Kinsey
Theodore P. "Ted" Kinsey of Fairfield, PA passed away peacefully on Friday, October 7, 2016 at the age of 83.
Ted, son of Paul and Margaret (Hadorn) Kinsey, was born December 30, 1932 in Dover, Ohio. He was raised on an Ohio farm and graduated from Ohio State University in animal husbandry where he played trumpet for the Ohio State marching band. Ted served in the United States Marine Corps and deeply cherished his God, his family and his Country. In his spare time Ted enjoyed building things and was a master woodworker. Ted was united in holy matrimony to Joan Kinsley in May of 1960 delighting in 56 wonderful years of marriage.
His life will forever be remembered in the lives of his 3 children; Kimberly "Kim" Martin of Montana, Steve Kinsey and Jeffrey "Jeff" Kinsey both of Pennsylvania and his 6 grandchildren; Kaitlin "Kate" Moretz, Kara Moretz, Robert "Rob" Moretz, Dane Martin, Connor Kinsey and Kylie Kinsey. A devoted family man he will forever be a role model to his children and grandchildren of living a life driven by service for others.
Ted was an active member of the Gettysburg Presbyterian Church where Ted continued his love of building and participated in many mission projects both locally and throughout the country.
A memorial service will be held on at 2:00 p.m. on Saturday, November 5, 2016 at the Gettysburg Presbyterian Church, 208 Baltimore St., Gettysburg, PA. The family will receive friends at a reception following the service in the church's Fellowship Hall. A private interment will be in the Evergreen Cemetery in Gettysburg.
The family suggests memorial contributions to the Gettysburg Presbyterian Church. The Monahan Funeral Home in Gettysburg is assisting the family with the funeral arrangements, online tributes and condolences can be made at monhanfuneralhome.com.