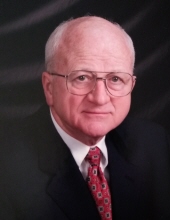 Obituary for Thomas Alva Laser
Thomas Alva Laser (Lt. Col. U.S. Air Force, Ret.), of Fairfield, PA, passed away peacefully at home, surrounded by loved ones, on May 30, 2021.
Tom was born on April 16, 1938 to Alva M. Laser and Hazel Wayt Laser in Willard, OH. After dating her in high school, Tom married the former Sara Mae Seaman in 1960. He is survived by Sara and their children, Mark Thomas Laser (Kathleen Kelly) of Carlisle, PA, and Amy Laser Kiger of Staunton, VA. In addition, he is survived by his grandson Jackson Thomas Kiger of Staunton, VA, brother Alfred W. Laser (Greeley, CO) and sister Della S. Kaple (Galion, OH). Tom was predeceased by sisters Eldora Willford, Juanita Baker, Nadine Morris, and Mary Davis, and son-in-law John Kiger.
An accomplished baseball and basketball player, he graduated from Shelby (OH) High School in 1956 and went on to earn his bachelor's degree at The Ohio State University in 1960.
During his 20-year Air Force career, Tom had diverse assignments in California, Japan, Michigan (where he earned his master's degree at Michigan State in 1967), Maryland, Alabama, Taiwan, and the Pentagon, Washington D.C. Earning numerous service accommodations, he retired as the Assistant to the Assistant Secretary of the Air Force for Data Processing. Upon retirement from the Air Force in 1981, Tom pursued a second career as a systems analyst.
Tom's lifelong passion was woodworking. He was a skilled artist, designer, and craftsman who specialized in lathe turning tropical and north American hardwoods. Hundreds of beautifully finished works of art displayed worldwide will remain an enduring testament to Tom's skill and artistry. Numerous non-profit organizations have benefitted from Tom's generous donations of his wood turnings.
Tom was a very active member of Christ Evangelical Lutheran Church in Gettysburg, PA. He served as organizer of Songs and Stories of a Civil War Hospital, Council President, Financial Secretary, Chief of Clerk of the Works Council for a major building project, director of CELC's participation in Gettysburg's New Year's Eve celebration, and perennial worship service volunteer.
A private graveside service for immediate family is planned. A memorial service will be held at the church at a later date. In lieu of flowers, the family requests contributions in Tom's memory to Christ Evangelical Lutheran Church (44 Chambersburg Street, Gettysburg, PA 17325). Online tributes and condolences can be made at monahanfuneralhome.com.
Read More
Previous Events
Service
Christ Lutheran Church
30 Chambersburg Street
Gettysburg, PA 17325
Cemetery Details
Location
Evergreen Cemetery
799 Baltimore St.
Gettysburg, PA 17325