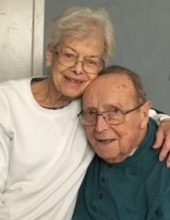 Obituary for Walter William Ferchland
Walter William Ferchland, 91, of Gettysburg, PA, died, Monday, January 25, 2021 at the Gardens of Gettysburg.
Walter was born in Brooklyn, New York on May 13, 1928. He was the oldest son of Walter and Mary Railly Ferchland and the last survivor of their three children.
Walter often said the joy of his life was marrying his childhood sweetheart, Doris, on November 11, 1950, the beginning of a 70-year romance. They bought their first home in Levittown, NY and raised their children there. Walter worked as an accountant at the Hempstead Bus Company and later oversaw a depot of over 500 drivers and mechanics for the Long Island Metropolitan Suburban Bus Authority (MSBA). He was loved by his employees and was honored for his 28 years of service by MSBA administration when he retired in 1990.
Following their retirement, Walter and Doris moved to Lake Heritage, Gettysburg where they began the next 30-year chapter of their lives. Walter was active in the community as a member of the Rotary Club, the Lake Heritage Fishing Club, and was a past member of the Gettysburg United Methodist Church. He served as a Wellspan Gettysburg Hospital volunteer for over 25 years. Walter was a model train enthusiast, loved Big Band music and swing dancing with his wife, and was a lifelong fan of the New York Jets.
In the last year, Walter and Doris moved to the Gardens at Gettysburg nursing facility. As residents, they contracted COVID-19 and Doris died of its after effects in December. On January 23, Walter fell from his wheelchair. He passed away on January 25.
Walter is survived by his two daughters, Joanne and Patricia, their husbands, two granddaughters and grandson.
A memorial service will be held at a future date. The Monahan Funeral Home is in charge of the funeral arrangements and online condolences may be made at monahanfuneralhome.com. Gifts in lieu of flowers can be made in memory of Walter to Wellspan Gettysburg Hospital Physical Rehabilitation Department.
Read More