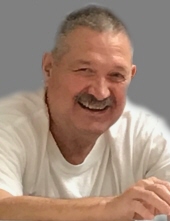 Obituary for Willard "Skip" Biba
Willard "Skip" Biba, 75 of Oglesby, IL, passed away
unexpectedly on May 29, 2022 while on vacation visiting
family in Gettysburg, PA of natural causes.
Skip is survived by his wife of 53 years, Wendy (Warren) Biba;
his children, Ray (Michaela) Biba, Traci (Kevin) Koehler, Tina
Biba and Ryan (Trisha) Biba; grandchildren Nickolas
(Charlotte) Koehler, Michael Biba, Devyn Castelli, Kinley
Draper, Lillith Biba and Mya Terando; great-grandchild
Mckenzie Koehler; siblings James Biba, Pam Ciambotti and
Cindy Flemming; and nieces and nephews. He is preceded in
death by his parents, William and Emmaline Biba;
brothers, Wesley, Benjamin and Donnie Biba; sister-in-laws
Kathleen, Betty and Kathleen Biba; niece Lori Szfranski; and
nephew Dan Biba, Jr.
Skip was born in Ottawa, IL on February 3, 1947 to William
and Emmaline (Smith) Biba. On December 11, 1968, he
married Wendy, the love of his life. Skip served in the U.S.
Army, stationed in Germany from 1967-1969. He worked at
Illinois Cement from 1974, as a diesel mechanic, until his
retirement in 2013.
Skip was a dedicated husband, father and grandfather who
truly loved his family. He enjoyed camping, hunting, fishing,
gardening, shooting pool and throwing a few cold ones back
with his friends. He was also a proud member of the American
Legion and the 40 & 8. Skip was the kind of guy who would
give you the shirt off his back and was always willing to lend a
helping hand. He will be deeply missed by his family, friends,
and all who knew him.
A Celebration of Life will be held on August 13, 2022. More
information will be announced at a later date.
Read More
Events
Event Information
Services will be set for a future date to be determined.