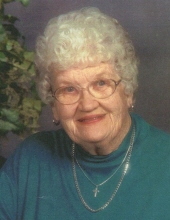 Obituary for Willetta D. "Billie" Lady
Willetta D. (Billie) Lady entered into God's care on July 5, 2021.
Billie was born to Bill and Grace Blair in Flint, Michigan on May 11, 1927. She married Norm on December 27, 1947 and together they raised three daughters, Kris (Paul), Karin (Kuntz), and Joann (Mickley) in Quaker Valley, Biglerville.
In the 70's, they moved to Yellow Hill Road and Billie continued to work with Norm. Shortly before Norm passed in 2001, she began to work with Hospice of the Good Shepherd as a secretary and then became the Volunteer Coordinator. Billie loved singing in the choir at St. Paul's, volunteering for the hospital, golfing, traveling, reading and spending time with her family.
She and Norm were blessed with 6 grandchildren and 17 great-grandchildren. The last 6 years of her life, home was at Paramount Nursing & Rehab. Her daughters wish to thank them for the wonderful care Billie received while there. Also thank you to Heartland Hospice for their part in caring for Billie.
Services and interment, being handled by the Monahan Funeral Home, will be private, online condolences may be made at monahanfuneralhome.com.
Memorial donations in Billie's name may be made to St. Paul's Lutheran Church, 25 Franklin Street, Biglerville, PA 17307.
Read More