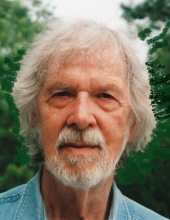 Obituary for William "Bo" Cadle, Jr.
William R. "Bo" Cadle, Jr., 88, died Tuesday, January 21st, 2020, at the SpiriTrust Lutheran Village in Gettysburg with his wife, Jean, by his side.

Bo was born October 10, 1931, in Gettysburg, PA, son of the late Dr. William R. Cadle, Sr. and Carolyn Edwards Cadle.

Bo graduated from Frederick High School, received a degree in science from the University of Maryland, served two years in the Air Force and then earned his Master's in Education.

Bo loved to wrestle with complex ideas, always inquiring, searching and dreaming.

His wonderful sense of humor and thoughtfulness touched many throughout his life. Bo went on to be an inspiring science teacher, basketball coach, mentor and VISTA Supervisor for Literacy. Later in life, his strong desire to serve his hometown manifested in a new and wonderful way. He began a community newspaper with Jean. The Emmitsburg Regional Dispatch was first published December, 1993. And for almost ten years, their passion for strengthening community came out monthly. He lived the newspaper's motto of "gaining strength from one another." It was his most treasured accomplishment.

Bo is survived by his loving wife of 27 years, Jean Douglas Streeter Cadle; sister Carolyn Cadle Lower & her husband, Bill Lower; daughters Nena L. Cadle & Sian M. Cadle from his first marriage to Livia Armstrong; five grandchildren and one great grandchild. Bo was also dearly loved by Jean's five children and their families.

A Memorial service will be held Saturday, January 25, 2020 at 2:00 PM from Emmitsburg Presbyterian Church with Rev. Dr. Peter Keith officiating. The family will receive friends at the church following the service.
Read More
Previous Events
Service
Emmitsburg Presbyterian Church
415 West Main Street
Emmitsburg, MD 212727
With family receiving friends following the service at the church.