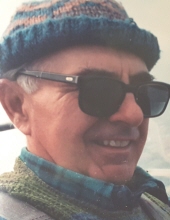 Obituary for Martin Voelk
Martin Voelk, 92, of Fairfield, PA passed away September 4th 2016. Born in Vienna Austria to Michael & Margarete nee Kaiser. Martin's parents had friends with a lovely daughter Edith, who would marry Martin in 1946. Together they celebrated their 70th wedding anniversary this past June.
Martin's education was in Machine Building and Mechanical Engineering. After serving as a pilot in WWII he continued his education earning a Master's Degree in Mechanical Engineering. Although Martin held positions at several firms as an Engineer on the ground it became clear early on his passion was to be soaring above it rather than on it.
Accredited in the United States, Canada and Europe, Martin flew gliders and prop planes around the world. His other talents and education would enable Martin to build and work on his own planes. One of his many planes can be found in a museum in New Mexico. He could navigate by the stars and his wife Edith has many tales of adventures that only Martin could have managed. I myself, his much younger cousin, partly credit him for my bravery having flown with Martin since I was a young girl. He had a motor scooter that he cut in half and used to bring with him when he and Edith traveled so they would have transportation when they arrived. He would simply screw the scooter back together and off they went on their excursions.
The Voelks moved to Fairfiled in the 60's and Martin became the Pilot Captain for Charnita, Inc. Again his skills came in handy as he built the airport, managed the maintenance and flew the owner and clients. Through the years Martin managed that airport, living across the street made it convenient. He was a commercial and private flight instructor. He was very much a part of the Mid Atlantic Soaring Association and he and Edith spent many hours manning the tow plane so others may soar.
Martin was adored by us all for his charm, humor, generosity and loyalty. He is missed most by the woman he cherished, his wife Edith.
Read More