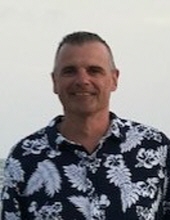 Obituary for Ryan C. Stouch
Ryan C. Stouch, 52, of Gettysburg, PA, passed away after a brave battle with cancer, Monday, April 20, 2020 at the York Hospital.
He was born December 2, 1967, in Gettysburg, PA, the son of Richard L. Stouch, of Sodus Point, NY and the late Johneta (Murray) Yingling. Ryan was the loving husband of Laurie (Walker) Stouch, to whom he was married to for 29 ½ years.
Ryan was a member of Trinity United Church of Christ, of Gettysburg. He was a 1986 graduate of Gettysburg High School and of Antonelli Institute of Art & Photography. He was employed by Herff Jones Yearbooks for 27 years and Graphcom for 5 years.
Ryan enjoyed coaching football and baseball in years past. He also enjoyed family vacations to Ocean City, NJ and most of all spending time with his family and 2 pugs Bunny and Kitty, and cat Pepe. He was an avid Dallas Cowboys fan.
Ryan loved his family dearly, wife Laurie, sons Jordan Ryan Stouch and his fiancée Christine Rizkallah, of Germantown, MD, Jesse Christopher Stouch, of Gettysburg, PA, brother, Todd Stouch and his wife Kristyn, of Spring Grove, PA, sister-in-law, Wendy Rudisill, of Gettysburg, PA, Aunt June & Uncle Ron, of New Cumberland, PA, nephews, Douglas Stouch, of Pittsburgh, PA, Eric Stouch and Andy Stouch, of North Carolina, and several cousins. He was preceded in death by his brother, David Stouch, and aunt, Louise Biesecker.
A memorial service for the public will be held at a later date, and will be published in the Gettysburg Times once the threat of the COVID 19 pandemic has ceased. The Monahan Funeral Home is in charge of the funeral arrangements and online condolences may be made at monahanfuneralhome.com.
In lieu of flowers the family suggests memorial contributions be made to the Adams County SPCA, 11 Goldenville Rd., Gettysburg, PA 17325 or to Trinity United Church of Christ, 60 East High St. Gettysburg, PA 17325.
Read More