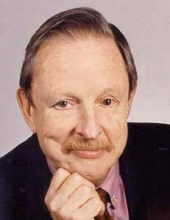 Obituary for Everett W. Ladd, Jr.
Everett William Ladd, Jr., 90, passed away at home, with his beloved caregivers and wife constantly by his side, on Tuesday, March 16, after a long battle with Alzheimer's. He will be remembered by friends and family as the quintessential gentleman—kind to everyone, a patient and compassionate listener, a mentor to so many, and a businessman with a huge heart.

A veteran of the Korean War and the Army Reserve, Everett had a wide-ranging career—electrical apprentice, shepherd, agricultural lender, bank president, and entrepreneur teaching leadership through historic role models with his wife.

Everett was born November 26, 1930 in Dedham, Massachusetts, to Everett William Ladd, Sr., and Jane Baker Ladd. He was the oldest of four children, known by family and childhood friends as Bill.

He graduated from the Stockbridge School of Agriculture at the University of Massachusetts with a degree in Animal Husbandry (1951), then after military service in Korea (1953-1955), completed a business degree from Western New England College (1963). As he progressed from ag lending to commercial lending, he also graduated from the Stonier Graduate School of Banking (1970). Everett became President of Northampton National Bank in Northampton, MA, where he was a community leader for many years.

He is survived by his wife, Antigoni Lefteris Ladd of Gettysburg, PA, who was also his business partner, and by his sister, Mary Smith of Ipswich, MA, and brother, James Baker Ladd, of Wolfeboro, NH. He has two sons, Kevin Arnold Ladd of Chesterfield, MA and E. Allan Ladd of Amherst, NH; and three grandchildren, Zachary Allan Ladd and wife Alex of Belgrade, Maine, Matthew Robert Ladd, in college at the University of New Hampshire, and Jennifer Jane Ladd in college at the University of Vermont. He is predeceased by his parents, his first wife, Dorothy Stinson, and a brother, Joseph Ross Ladd.

A memorial service will be held at a later date in Gettysburg, conducted by the Monahan Funeral Home. Online condolences may be made at monahanfuneralhome.com. Burial will be in Dedham, Massachusetts. In lieu of flowers, donations may be made to the Adams County SPCA, www.adamscountyspca.org.
Read More