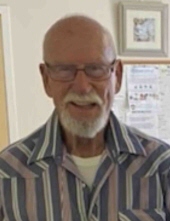 Obituary for Darwin F. "Sonny" Heagey
Darwin F. "Sonny" Heagey, 84, of Moose Road, Gettysburg passed away peacefully on Wednesday, January 12, 2022 in his home with his daughters, after a short battle with Interstitial Lung disease.

He is preceded in death by his wife of 42 years, Mary in 2004, his son-in-law Brian Miller, his sisters Martha and Joan, brother, Dave. He is survived by his brother, Dan and his wife Max of Mississippi and his sister-in-law, Robin Heagey of Gettysburg, PA.

He was born March 29, 1937 the son of the late Donald F. Heagey and Emma Flickinger Heagey of Gettysburg, PA.

In addition he is survived by his daughters; Sharon Sentz and her husband Michael of Littlestown, PA, Diana Heagey of Gettysburg, PA, Cindy Miller of Gettysburg, PA, and Patricia Flickinger and her husband Dennis of Gettysburg, PA.

He loved his nine grandchildren; Amanda, Bree, Ben, Zach, Brittany, Devon, Dennis, Emma and Rebecca.

He was proud to have twelve great grandchildren; Allie, Miller, Aizlyn, Zaiden, Henry, Noah, Karlin, Dempsey, Calvin, Cailyin and the newest additions, Zachary and Marshall.

Sonny was a tile setter for Garretson Tile Company for 45 years. He retired at the age of 70.

He enjoyed tinkering in the garage, burning his woodstove, gathering eggs, riding in the combine. He spent his days working in the garden, cutting wood and counting the railroad cars of the train each day.

He loved NASCAR and his favorite driver Dale Earnhardt, Sr. He was proud of his John Deere tractor and his love of Chevrolets and his collection of frogs. He cherished time spent with his companion, Judy Yingling.

Sonny was a veteran of the U.S. Air Force.

It's not good-bye but so long for now

Funeral services will be held Saturday, January 15, 2022 at 11:00 AM from St. James Lutheran Church, Gettysburg, PA with Rev. Michael Allwein officiating. There will be a viewing at the church on Saturday from 9:30 AM until the time of the service. Online obituary and condolences available at monahanfuneralhome.com.
Read More
Previous Events
Visitation
St. James Lutheran Church
109 York St.
Gettysburg, PA
Service
St. James Lutheran Church
109 York St.
Gettysburg, PA