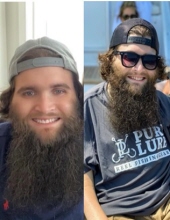 Obituary for Tyler David Harris
Tyler David Harris, also known as Pman, as Tyler would say P is for perfect man, 33 years old of Gettysburg PA, passed away on July 31st, 2022 at the Gettysburg Hospital. He was born on February 25th, 1989. Tyler is a graduate of Biglerville High School Class of 2008 and attended HACC, York College, and Edinboro University. Survived by his mother Tammy Harris, sister Cheyenne Gonzalez, brother in law Jose Gonzalez, grandmother Jean Harris, uncles Brian and Steven Harris. He was preceded in death by his beloved grandfather Jerry L. Harris, great grandparents George and Dotty Eppler, and Bessie and Wilson Harris, and many others. Fun fact, Tyler changed his facebook name to Tyler Wilson.

A celebration of life with catered BBQ will be held Sunday, September 4, 2022, 2:00pm to 5:00pm at Gettysburg Recreational Park (545 Long Lane Gettysburg PA 17325). Everyone is invited to attend this event. Come share a story about Tyler and enjoy some BBQ. It was a passion of Tyler's, to cook, find new recipes, rubs, and sauces as he BBQ'd.

He became paralyzed at the age of 8. He was never defined by his disability. Tyler's years at Edinboro University were an amazing experience for him as he explored his independence to true Tyler's style. He had the opportunity to meet Michael Jordan in Chicago at his restaurant, made possible by Make A Wish. This was one of the highlights of Tyler's life. He loved fishing and finding recipes to cook fresh fish. He got to go deep sea fishing last year on board "Fish Bone", owned by Joe Ward. Captain William Chapman and crew were beyond amazing as they made it possible for Tyler to cast and reel in his own fish, 8 Mahi Mahi and tile fish. Pure Lure Fishing Gear sponsored this amazing day for Tyler. They all remained friends with Tyler and shared fishing stories. He loved his high school years at Biglerville High School thanks to the amazing teachers and staff, such as Karen Peterson and Rich Sterner, which remained dear friends to Tyler. Motocross remained a passion as Tyler enjoyed watching races and attending arena events. You can't think of Tyler without saying Steelers, Football, and Big Ben. It was Tyler's goal to be a football coach. He was able to coach for Francis Scott Key Junior Eagles for a season. He was an avid Baltimore Orioles fan, and enjoyed going to opening day with family hanging and hanging at Pickles Pub for pregame party with his friends.
Man's best friend is a dog, Tyler had an amazing service dog for five years. This was life changing since it brought him out his shell, and he had man's best friend at his side daily. Weeize, his service dog, went to school, church, restaurants, and vacations with him. We had some amazing nurses over the 25 years that Tyler was paralyzed. They were more than care givers, they were dear friends. Stacie, Liz, Donna, Nicole, Kimmie, Deanna, Adrian, Wale, and countless others. It takes a village to raise a child, was always my saying. His sister Cheyenne helped Tyler daily during his high-school years and She received an award by the state: Recognition for Outstanding Resilience.

Tyler was inspired to get into Karate after falling in love with the movie Karate Kid, and Jackie Chan. Tyler achieved black belt status in his early childhood years, an achievement he was so proud of.
Living in Central PA, hunting is through and through. Buckmasters assisted in helping Tyler be able to shoot his own rifle and hunting independently. Tyler shot a 10 point buck and attended many handicapped hunting trips.

Donations in memory of Tyler may be sent to https://buckmasters.com/resources/disabled-hunters or https://wish.org

Tyler was never limited by his disability and inspired everyone he met to keep a positive attitude. He will be missed by all who knew him.
Read More
Previous Events
Visitation
Gettysburg Recreational Park
545 Long Lane
Gettysburg, PA 17325