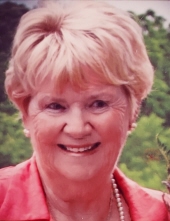 Obituary for Regina Pouder "Gina" Arnold
Regina Pouder Arnold October 11th, 1934, through September 2, 2022
Regina "Gina" Arnold passed from this life Friday, September 2 in the solace of her Gettysburg home. Several loved ones and a compassionate hospice nurse surrounded and comforted Gina as she was called to Heaven.
Preceding her in death are her adoring, devoted and handsome husband, Tom. Together they journeyed through 60 plus years of life experiences. Also preceding, are her firstborn angel son Michael, "The Vassar Baby" and an avid surfer. Gina 's parents, James and Aileen Pouder, her loving namesake Aunt Regina and her beloved sister Loretta.
Gina (and Tom!) had an insatiable desire for, and keen interest in world travel. Is it any surprise…, they met on a cruise ship?! As a team, they cultivated their vision of opening their own successful travel agency together.
Tennis, golf, gardening, music and walks with family and friends, were among her many passions. Gina loved colorful "matching" outfits and she enjoyed entertaining friends, as well as learning new languages. Her ongoing knowledge of current sporting events was most impressive. Gina filled her home with precious photographs of family and friends and she proudly displayed an extensive and interesting collection of keepsakes from her husband, children, friends and her worldly travels.
Gina was also especially passionate about her Catholic faith. For years preceding her death, Gina faithfully continued the family legacy through her generous contributions to a variety of causes in and around the Adams County area. She focused primarily on helping various needs of women and children. Surviving Gina are her four children: Jimmy, Kathi, Greg, and Jeff. She was blessed with daughter in laws Trish, Cheryl, and Michelle — all kind and generous with their love, time, and creativity. A beloved friend and sister-in-law, Nancy, also survives Gina.
"Grandma Gina" enjoyed 16 grandchildren and boasted of 20 great - grands.
Gina 's family favors donations to the fight against breast cancer and macular degeneration. Flowers and notes may be sent to The Arnold Family 40 Kings Gate Court, Gettysburg, PA 17325. A casual and joyful celebration of Gina 's vibrant life will take place in the spring of 2023.
Online tributes and condolences can be made at monahanfuneralhome.com
Read More
Events
Event Information
Services will be set for a future date to be determined.