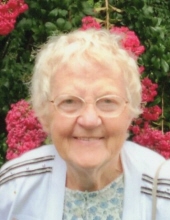 Obituary for Patricia Gleim Small
Patricia Small (nee Gleim), 91, a lifelong resident of Gettysburg, Pa., passed peacefully in her sleep on November 20, 2022. Born on March 1, 1931, she was the daughter of Lawrence and Hilda "Cookie" Gleim and a graduate of Gettysburg High School's class of 1948. Pat was married to her husband, Chester Small, for 59 years before his passing in 2010. She is survived by her five children: Jeffrey (Katherine), Vonnie, Mary Ann, Maurice "Sam" (Catherine), and Wesley (Linda). She was a caring and devoted grandmother of 10 grandchildren, Rebecca Roan (nee Small), Jordan Berrian, Tara Zullo, Andrew Small, Eric Zullo, Taylor Berrian, Rachel Small, Chelsea Small, Michelle Small, and Hayley Small, and four great-grandchildren, Laura Roan, Caroline Roan, Isla Prudhomme, and Lana Prudhomme.
In 1971, after working for several local businesses and while raising their family, Pat and Chet started The Horse Soldier, a business selling military and Civil War antiques. Initially run from the family's living room on Emmitsburg Road, Pat suggested that Chet move the rusty relic business out of her house, and operations resumed in a small barn in their backyard. The pair would soon outgrow the barn, and, in 1979, Pat found a spot for a retail shop in the Old Gettysburg Village, where the business would remain until 2010. Pat and Chet were joined in the business by two of their sons, Sam and Wes, in 1983 and 1984, respectively. Together, the foursome built The Horse Soldier into a nationally recognized and respected seller of military and historical antiques. Today, the family-owned and -operated business continues Pat and Chet's legacy in a retail shop on Steinwehr Avenue.
Among her other roles as a co-owner of the business, Pat prided herself on being "the face" of The Horse Soldier until her well-earned retirement in 2015. For years, Pat's smiling face was the first thing customers saw as they entered the store, with regulars often greeted by name.
The holidays were Pat's favorite times of the year. She was diligent in ensuring that the entire family got together to celebrate major holidays at her and Chet's mountain home in Cashtown, Pa., while her grandchildren were growing up. These get-togethers became some of her and her family's most cherished memories.
Pat's loved ones will remember her for her tireless work ethic, her generosity, and her elephant figurine collection.
Private funeral services will be held by Monahan Funeral Home in Gettysburg. The interment will be in Gettysburg's Evergreen Cemetery
Read More
Events