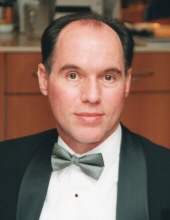 Obituary for Paul E. Styer
Paul E. Styer, 67, 875 Belmont Road, Gettysburg, PA died suddenly from complications of atypical parkinsonism at Chestnut Hill Hospital in Philadelphia, PA.

He was born January 12, 1952 in Erie, PA the son of the late Lloyd E. and Grace Meyer Styer. Paul is survived by his wife Debra G. Scarborough.

Mr. Styer was a member of Zion UCC in Arendtsville, PA. Paul graduated from Penn State University with a BS degree in Civil Engineering. He began his career with the Baltimore District of the Army Corp of Engineers, then transferred to Fort Belvior, VA District involved with Construction Management and later to the Facilities Engineering Support Agency as a consultant for roofing and paving projects worldwide. Finally at Fort Belvior he became part of the Facilities Management team. Paul then joined the Department of Defense, Defense Threat Reduction Agency involved with anti-terrorism assessments around the world. After his retirement from the government Paul took a similar position at Raytheon Corporation.

Whether it was climbing the Zugspitz, the tallest mountain in Germany, cruising the Rhine River, touring the cathedrals of England, watching total solar eclipses in Ulm, Germany and Cherokee, NC, swimming with the stingrays in the Cayman Islands, climbing Mayan temples, sailing through the Panama Canal, climbing Ayers Rock, or snorkeling the Great Barrier Reef of Australia, Paul was always a willing partner in Debra's desire to see the world. Even when travelling for work, Paul always managed to squeeze in some sightseeing and shopping. He especially enjoyed Korea and Japan.

While doing all this he and Debra designed and built a passive solar house in NoVA, which was featured for over 17 years in the Annual Metro Washington, DC Solar & Green Home Tour. Their home in Gettysburg incorporated energy efficient superinsulation and was featured in an issue of PennLines. In his retirement years in this area he enjoyed home improvement projects, including placing over 50 pallets of pavers in his driveway, gardening and more traveling. He will be missed by his three cats; Mr. Kitty, Ali Kat, and Sadie.

In addition to his wife, Paul is survived by three brothers; Gary Styer and his wife Janet of Williamsport, PA, Mark Styer and his wife Judy of Waupaca, WI, Dale Styer and his wife Elaine of Erie, PA.

A Memorial service will be held Saturday, March 23, 2019 at 2:00 PM at Zion UCC, Arendtsville, PA with Rev. Dr. Kim Blocher officiating. In lieu of flowers memorials can be made to Cumberland Valley Animal Shelter, 5051 Letterkenny Road West, Chambersburg, PA 17201 or Michael J. Fox Foundation, PO Box 5014, Hagerstown, MD 21741. Online obituary and condolences available at monahanfuneralhome.com.
Read More
Previous Events
Service
Zion United Church of Christ
22 Gettysburg St.
Arendtsville, PA 17303