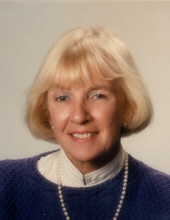 Obituary for Kajsa Anne Cook
Kajsa Anne "KC" Craig Cook, 84, of Gettysburg, died peacefully at her home in the presence of loved ones on February 24th. Born April 18, 1931, in Ridley Park, PA to Carl Mason Craig and Elsie Sandberg Craig, she spent her youth in Pittman, NJ. She graduated from Collegeville-Trappe High School and Penn State University, where she majored in art history.
As a young wife and mother of three, Kajsa worked as a homemaker and teacher and later spent time in real estate and magazine publication. She was most recently employed as a tipstaff for the Adams County Court of Common Pleas. In her 70's, she began writing and authored three books, "Secrets of the Shriver Attic," "The Untold Story of the War of 1812" and a yet un-published work, "The Courier," which tells the tale of the First Continental Congress.
She is survived by a brother; Carl Mason Craig, Jr.; three sons, Jeffery M. Cook and wife Nancy of Gettysburg, Gregory S. Cook and wife Janet of Perkasie, and Steven T. Cook and wife Becky of Morrow, OH; grandchildren Chelsea M. Cook, husband Jon Decarlo and son Owen, Chad L. Cook, Garrett N. Cook, wife Denise and son Carter, Grant W. Cook and fiancée Hillary Dagle, Brittany Cook, Zachary Cook and Logan Cook; step grandchildren Jay Adams, wife Thelma and children Jaxon and Kendall and Jesse Adams and daughter, Alexis Bucher; and numerous nieces and nephews.
Kajsa was vivacious and loyal. She loved music and dancing. Throughout her difficult medical journey the past two years, she never lost her positive outlook or sense of humor.
She maintained friendships from high school and college and was especially fond of her Birthday Club group. Brenda McCabe was like a daughter to her.
She was a voracious reader and follower of world events. She was a founding member of the Adams County Arts Center and a long-time participant on its program committee.
Kajsa was very spiritual and believed that everyone's essence endures beyond death's portal. Hers certainly will.
Those who knew and loved this wonderful mother, grandmother and friend will miss her greatly.
A celebration of Kajsa's life and private interment will be at the convenience of the family.
Memorial contributions in her honor may be made to the Adams County Arts Council, 125 South Washington Street, Gettysburg, PA. Online obituary and condolences available at monahanfuneralhome.com.