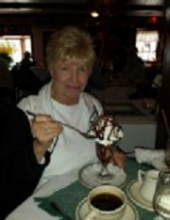 Obituary for Judith Nan Koch
Judith Nan Koch, 74, of Gettysburg, PA died Monday morning, April 25, 2016 at her home.
Born October 11, 1941 in Washington, DC she was the daughter of the late James and Mary (Crouse) Milner. She was the wife of Theodore W. Koch, of Gettysburg to whom she was married to for 54 years.
Judy worked for Bechtel for 39 years and her job was a big part of her life. She thoroughly enjoyed her time there and cherished the working relationships she developed with her colleagues.
In addition to her husband Judith is survived by her three daughters, Teresa Ferguson and her husband Gary, Tracey Sullivan and her husband Shawn, Trudy DiFazio and her husband John, and her seven grandchildren, Kelly Ferguson and her fiancée Buck Insley, Kyle Ferguson, Matt Sullivan, Lindsay Zieler, Chase Zieler, Trey Zieler, and Carly DiFazio. She was preceded in death by her sister, Sarah Choban.
A celebration of life will be held 2:00 PM, Friday, April 29, 2016 at Dutch's Daughter, 581 Himes Rd., Frederick, MD. Online condolences may be made at monahanfuneralhome.com.
In lieu of flowers the family has requested memorial contributions be made to SpiriTrust Lutheran Home Care and Hospice, 2700 Luther Dr., Chambersburg, PA 17201.
Read More